Slim Aarons
Slim Aarons is a legendary journalist. Although known to the public as a photographer, Aarons and those who know of his work are quick to state that he is not in fact a photographer.
Aarons used imagery as a means to tell a story, not simply capture a moment. He is by all accounts, a fantastic journalist. Aarons joined the war effort as a teenager. He was responsible for steeping prints in chemicals and would eventually be promoted as a war photographer for the American military where he would take his lens to document unparalleled carnage — the kind that haunt veterans today.
When the war was over, he made a vow to never photograph anything so dark or brutal. As a matter of fact he once said, "I have concentrated on photographing attractive people who were doing attractive things in attractive places" — a mantra he would live by to his final moments. When asked to cover the bloody Korean War, he turned down the offer by saying, "I'll only do a beach if it has a blonde on it".
His brilliant work documented my favourite era in history — the Jet Set. As soon as jet travel was made available in the late 1950's, the international playboys, European royalty, and Hollywood elite embarked on an endless holiday — cruising the skies from St. Tropez to New York. There were no Skyscanner and TripAdvisor apps for budget flights on cramped coach cabins with passengers wearing slippers and Beats® headphones. This was the golden age of flying. Passengers dressed for the flight, and dined on Chateaubriand fillet only from Fine China dinnerware. The Jet Set era was so much more than lavish flights.
It was a renaissance in beautiful music from Frank Sinatra, Lou Rawls, Elvis Presley, and Aretha Franklin. It gave birth to disco, and Ian Schrager's nightclub of debauchery, Studio 54. Midcentury architecture, which has proven to be absolutely timeless in today's world, was at its peak. The common folk had taste, and living in itself — was an art form. You will not find a single photo of people glued to their smartphone. When they wanted to take photos, they used the Leica strapped around their neck. The absence of an iPhone in their hand was replaced by something much more important — a glass of champagne.
I've always wondered what a day in the shoes of an industrialist would be like had I been given a free pass to time travel back to the 60's. Perhaps, I'd be checked-in a penthouse suite at the Hotel de Paris in Monaco. I'd proceed to have lunch with Ava Gardner, take her on a Riva to the seaside town of Portofino, where we would dine on lobsters and oysters — al fresco in the Mediterranean breeze. For dinner, I'd put on a 3-piece Caraceni suit, strap a Vacheron-Constantin Patrimony on my wrist, and get in the car to pick up Ingrid Bergman for a drive to the south of France.
The question is, what car would I drive? There's only on answer to that, and it just has to be an Aston Martin. Perhaps, an immaculate DB5. There is a problem, however. You see, my name is not Porfirio Rubirosa and we aren't in the south of France. I am Enzo Teodoro, and we are stuck in an archipelagic island in South East Asia. It's hot and humid. We are in a country that's been voted as the worst nation to drive a car in. A supercar in a country like this will surely be pointless, and I love it — because you join me in the lovely Aston Martin DB11 V8.
The DB11 is the most important car that Aston Martin has ever released. It is such a generational leap from its predecessor, the DB9, that they've skipped 10 completely. This is the car that is supposed to infuse life into the company and guarantee its existence for the next century. I don't give two shits about this. What I do care about is that the car is bite-the-back-of-your-hand beautiful.
It doesn't instantly pull you in the way the DB9 does. It isn't at all like seeing Marilyn Monroe butt naked with her legs spread. This is more like Olga Kurylenko. You need to give it time to appreciate it in all its glory under different shades of light. And slowly, it undresses itself to you. It is a stunning car with hints of the Jaguar E-Type, a car that Enzo Ferrari once said, was the most beautiful car in the world.
The interior is marvellous. The spec we have in black leather and blue stitching is quite disappointing. It reminds of a BMW 520d M Sport, and in this calibre of car — I don't like that garbage. However, spec this right, and it is among the great interiors you'll find in any car on sale today. The leather is of the finest hide from the Bridge of Weir tannery, and all the more it is a shame that it's specced in black — because the car smells rich and it reeks of very old money. The infotainment system has been blessed by Mercedes-Benz wizardry.
Although, the COMAND system isn't the industry leader in on-board computer systems, it is a generational leap from Aston Martin's old program. It was much easier to complete the launch sequence of a nuclear air strike on North Korea than to adjust the bass and treble settings on its predecessor. Speaking of audio settings, I don't need to state the obvious, but do bring condoms for your ears when you listen to the DB11's Bang & Olufsen sound system. I currently have a baby bump on my ear, because one jizzed too much on the other. It is HiFi heaven.
The beautiful thing about Aston Martin is that they don't care much about figures, lap times, and standardized tests. After all, the experience of it all supersedes any performance trump card that its rivals may have. Besides, the DB11 is more of a Super GT. It looks horny, it makes the right noises, and goes like stink. If you must know, it is powered by a 503 horsepower Mercedes-AMG supplied 4-liter twin-turbo V8 that propels the car from 0-100 km/h in 4 seconds and onto a terminal velocity of 300 km/h. Phew, that was boring.
The more important thing you'd like to know is that it is equipped with a ZF 8-speed automatic transmission with paddle shifters. Gone are the temperamental automated manual gearboxes that would overheat before you even get out of your village. This one works. The shifts are crisp and responsive, which allows you to rev the living daylights out of it to your heart's desire. Oh, and the fuel economy? It's abysmal. I take that if you are in the market for something like this, it probably isn't relevant information.
Finally, what's it like to drive? Well, I had a base spec Porsche 718 Cayman the exact same time that I had the privilege of driving the DB11. As far as sheer excitement and unadulterated driving pleasure goes, the Cayman has it licked at a fourth of the price. While they are very different cars, you'd expect the DB11 to put up a better fight — but it doesn't. If you are looking for a driving experience that makes the hairs at the back of your neck stand, the DB11 isn't what you're looking for.
By no means is it a bad car to drive. It's sensational, actually. It is however, tapered down to meet the balance between luxury and sport. There are several driving modes that you can choose from that are completely sovereign from its suspension settings, which means that you can have the full beans without chipping off your teeth in imperfect road conditions. If you are looking for something with telepathic steering and an overly conversational chassis to carve mountain roads in at 1am, you are looking for a Porsche 911.
I have always been into big and fast GT cars. The allure of a long bonnet, wide hips, and a soundtrack to die for will prove to be too much for me. I did mention this in my previous article on the Lexus LC500, which the DB11 has been compared to many times over. Let me be the first to tell you that the experience is far. It is the difference between Zara and Zegna.
Aston Martin has always defined the GT car, and the DB11 as it stands today, is peerless. I would love to drive a DB11 all the way to Subic for a weekend only to realize that I had left my overnight bag at home — so I can drive back down again. As a long distance GT, it is superb. You can drive at 250 km/h while having a conversation about the weather. And as a car to arrive in, does it get any better?
There isn't another brand that doesn't divide opinion the way an Aston Martin does. It's like Visa and Mastercard — accepted everywhere. The DB11 is one of my dream cars. Strangely though, I seem to love it more when it's away than when I'm driving it around. It's like having the biggest crush on that elusive someone, yet when you finally get the chance to be around her, your mind seems to wander off.
My obsession with the Jet Set era is no different. I admire it from a distance, but I'm not sure if I'd jump on the opportunity to switch eras with the life I have now. I guess the DB11 is a manifestation of those things, as it represents something so much more than an aspirational automobile. It is art, music, passion, sex, and love. It is the beautiful side of life — a modern kinetic Slim Aarons photograph.
2018 Aston Martin DB11 V8
Engine:
3,982cc, DOHC 32 V8, Twin Turbocharged
Fuel:
Gasoline
Power:
503 bhp @ 6,000 rpm
Torque:
675 Nm @ 2,000-5,000 rpm
Transmission:
8-speed Automatic with paddle shifters, RWD
0-100 km/h:
4.0 seconds
Top Speed:
300 km/h
Fuel Economy:
4.2 km/L Overall
Price:
POA
+:
Fast, stylish, beautiful, well-built, presence
-:
You'll need a lot of money for fuel, could have more steering feel, V12 could be more enticing
Verdict:
The best marriage of sport and luxury, a lot of style backed by substance
Rating:
9.5/10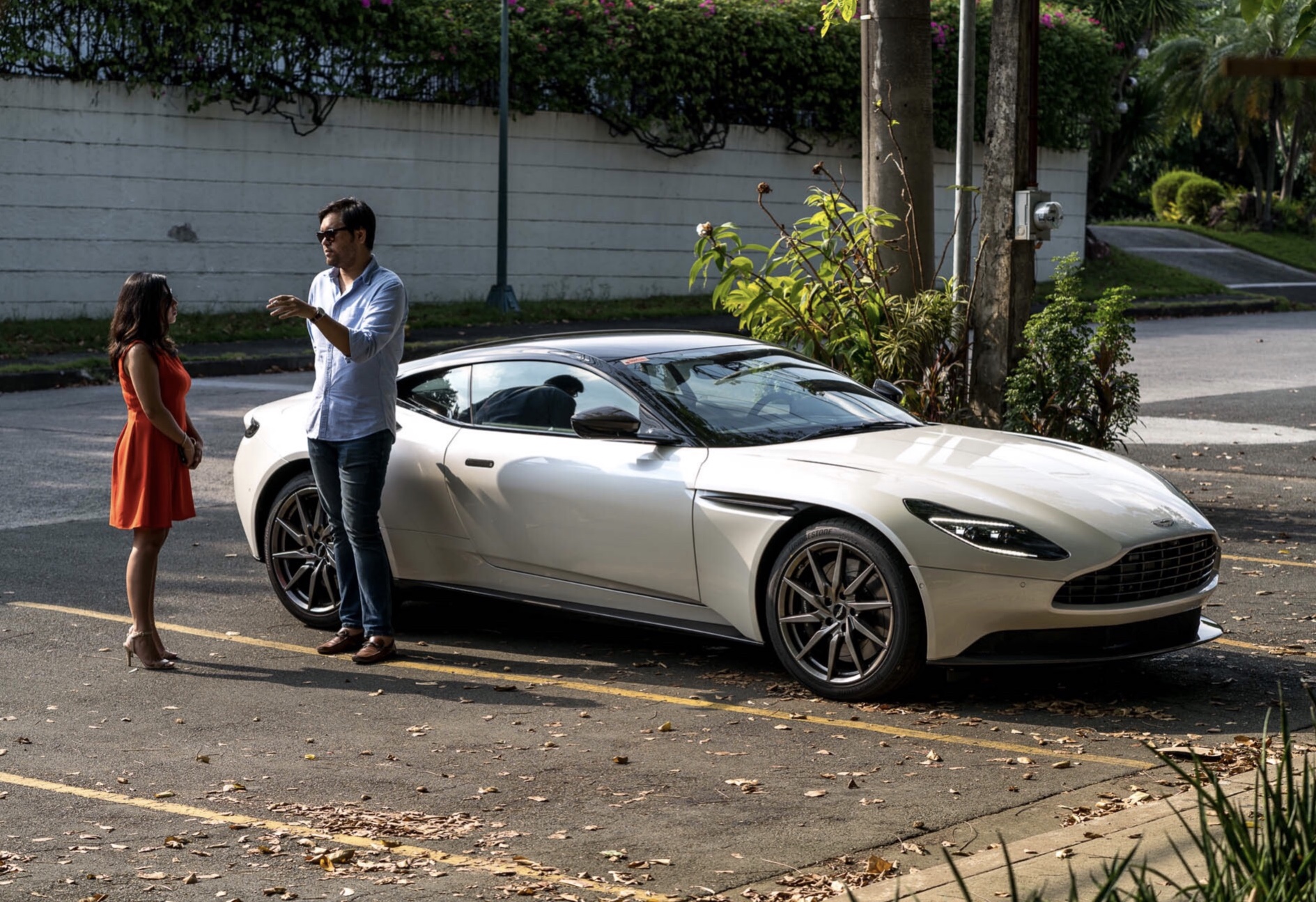 Enzo Teodoro
Ex-Automotive Executive
Instagram: @enzoteodoro