Haymaker
I was browsing through the deep bowels of the internet recently when I stumbled upon some old Nokia phones. It sent an instant slush of emotions and pulled me into an unplanned walk down memory lane.
It sent an instant slush of emotions and pulled me into an unplanned walk down memory lane.I saw photos of an 8890, a really svelte mobile phone with an aluminum finish that was about the size of a Tic-Tac. It instantly made me take a look at my iPhone 7 Plus, which is by right about the same size as the Tic-Tac factory. What ever happened to 'smaller is better'? Then I saw my stepdad. The man can afford any phone the world has to offer, yet he's got a Nokia. It is so basic in fact, that when he scrolled up to show me a picture, I couldn't identify the people in it - and it was a picture of my mom with my twin nieces.
"I call and text as much as I like and my bill is under a thousand pesos - plus the battery lasts longer than the food we stock in the pantry. What more could you really want?", he said. I was left baffled by his answer and yet, I would rather feed myself to our neighbor's annoying dogs before I even entertain the thought of giving up my iPhone. Having a phone that cannot take photos, forward emails, and stream YouTube all day long is like living in a tent. It's all you really need to survive, but you'd rather live in a house with air-conditioning, WiFi, and a cozy king size bed. No, don't argue with me. You just would.
"The digital instrument panel is unmistakably Lexus, a telling sign that the new median age of their buyers is twelve."
Take the Lexus RC F for instance. The car is painted in what they like to call Lava Orange Crystal Shine, which is essentially what you would see after a five-year old has regurgitated all the Jolly Spaghetti he's eaten thirty minutes ago. The car could have simply been white, grey, black or even blue, but that would be too simple for today's world. Also, Lexus have aimed their crosshairs on a certain BMW M4. Now unless they have hired Chris Kyle to take the shot, they ought to put their firearms away.
The BMW M4 is the benchmark in this category of sports coupé. Even if we cannot stand the daft sound it makes, it is quick with cat-like reflexes and it will clip every apex of every corner for as long as your body is willing to take it. The reason for that agility is its weight. The Lexus RC F is weighs exactly the same as a Mercedes-Benz E-Class, and that's about the same as Big Ben. Lexus have said that the reason the car is so heavy is because the chassis is so rigid. I think it is nonsense.
Now, I don't really care that the RC F isn't as athletically gifted as a BMW M4. Nothing is as athletic as the BMW, and if I wanted something like an M4, I'd have one. The mistake is obviously from Lexus itself, because by benchmarking Luis Suarez's athleticism to Cristiano Ronaldo, you would've already forced people to miss the point completely, and that's a shame - because the RC F is one hell of a striker. It's got the looks too. It has so many curves, swipes, and swooshes it almost looks like it was sketched by a Samurai's katana. It is unapologetic about its origami roots and it has the presence of a modern day Samurai. It has great details too, like a stacked pair of tailpipes similar to those found on the older Ferrari California. I hated them on the Ferrari, but I love them on this car. It's so damn juvenile.
The same goes for the interior. Although I must say that it is a bit long in the tooth already, the vibe is lovely. The same radical design language is carried over inside and it is matched with really supportive seats. You could fit two more people at the rear too, but they'd be far more comfortable if you chopped off their legs. Inside you get a fusion of the LFA-inspired digital tachometer alongside an analog speedometer. The combination of both leaves a unique looking instrument panel that is unmistakably Lexus, a telling sign that the new median age of their buyers is twelve. The trackpad that is used navigate through the menus is clumsy. If they were setting their sights on BMW, they should have just taken the iDrive - but today is all about less simplicity and more complication. So, here you have it.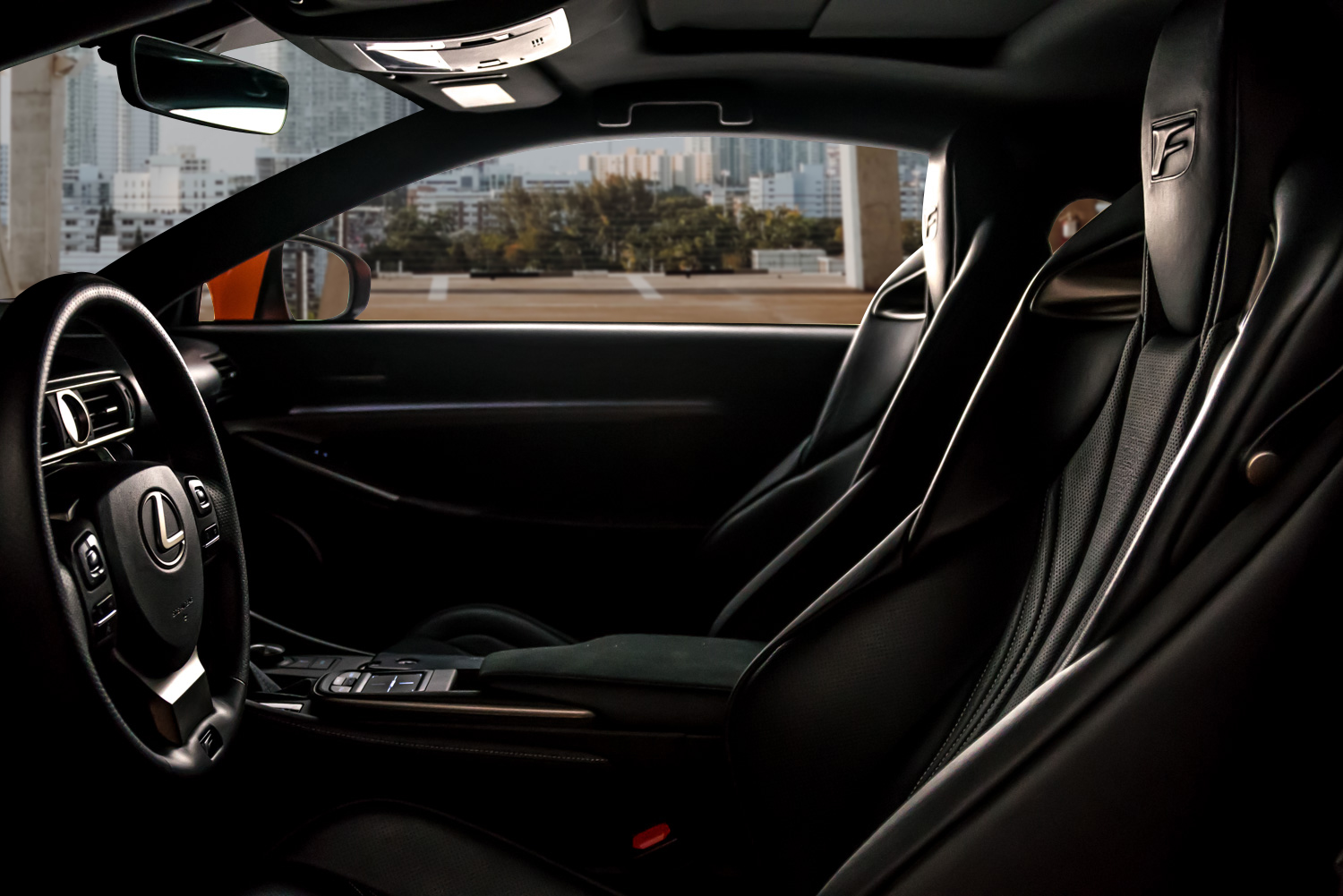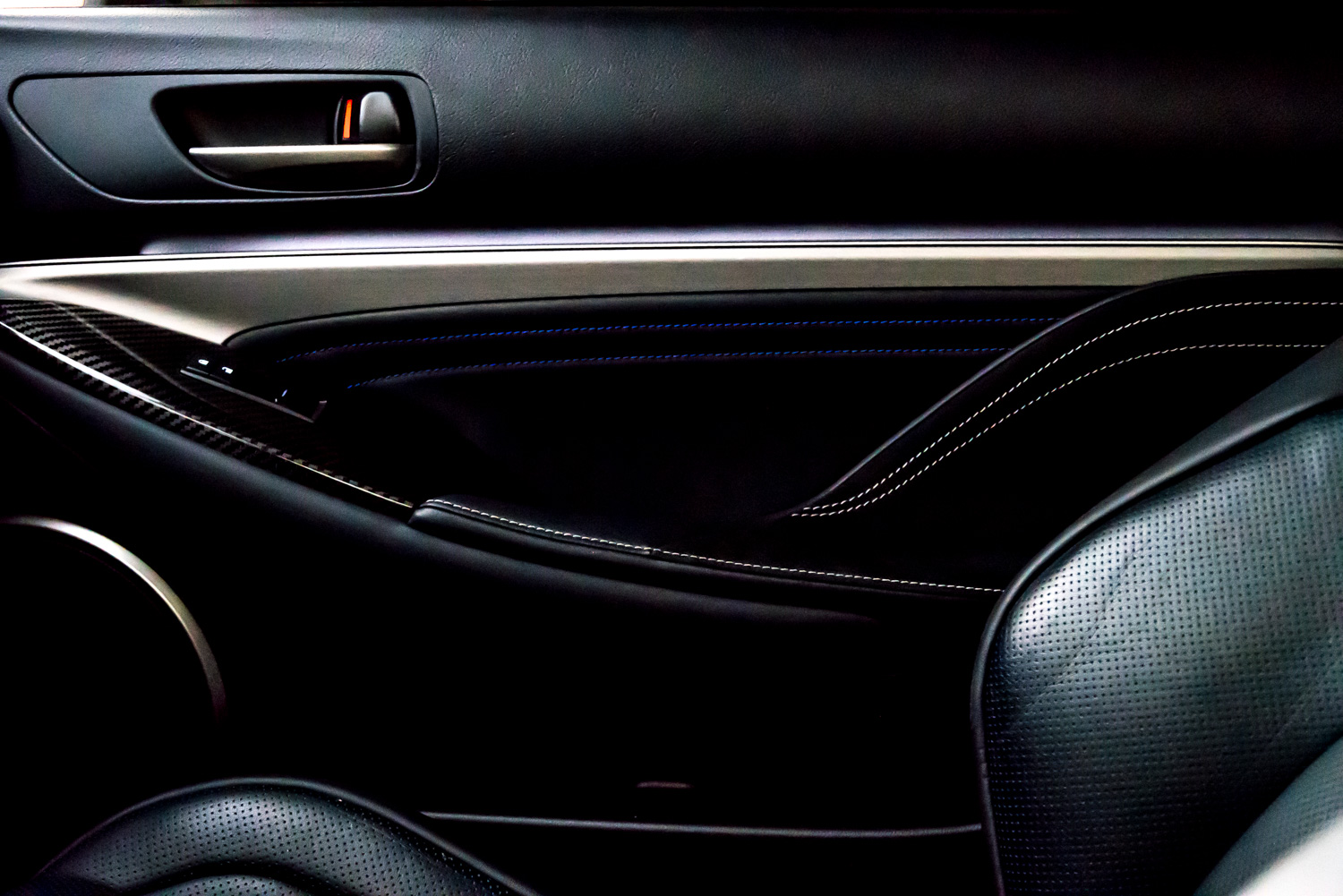 "The RC F sounds like Jennifer Aniston and Angelina Jolie trapped inside a balikbayan box."
I couldn't be bothered while driving this car. Despite it having eaten the entire Spiral buffet, it is just so fast. Actually, it depends on which setting you have it on. If you leave it in comfort mode, it is as cumbersome as everyone says it to be. Putting your foot down on the gas pedal is like gently awaking from a dog howling at the full moon. It'll take quite a lot of howls before you even move a muscle. Put it on any of the two sport modes though, and you get Kevin Hart after railing two massive lines of white powder. It is flying. Just absolutely soaring through the horizon. Through the corners, it cannot hide its weight - regardless of what driving mode it's in.
It really is overweight with type 2 diabetes. It's still very good though, just don't expect it to float like a butterfly. Aretha Franklin can only pop a few moves before she decides that she's done moving for the night. The naturally-aspirated 5-liter V8 engine is an endangered species that must be celebrated today. It is the last of the old school, and that automatically makes it cool. And boy, can it sing. Sure, the sound is piped in through the speakers, but the BMW M4 does that too. While the Bimmer sounds like a snoring school librarian, at the very least, the RC F sounds like Jennifer Aniston and Angelina Jolie trapped inside a balikbayan box. Only God knows that they're doing inside.
I honestly enjoyed driving the RC F. While it simply is not one of the most exciting sports car I've driven, I would rather look at it as one of the most exciting GTs on sale today. While you can argue that the likes of a more expensive BMW 6 Series is marginally more plush with even more space, the truth is that you don't buy coupés for the rear legroom. If that's what you're after, you'd have a Lexus LS. You buy these coupés because they're beautiful to look at.
And in that rarity of your busy schedule that you find free time to hop in a coupé and fancy a drive, the RC F will always be a joyous occasion. The 8-speed transmission is smooth, the steering is lovely, and the car is plush. It really is a GT. The only thing that is constant is the awful fuel economy. If you must ask how bad it is, you probably can't afford to run it. Otherwise, keep it simple. Get a grey one. Oh, and this car pairs perfectly with an iPhone, not a Nokia.
It wouldn't be temptation, if you could resist it.
2015 Lexus RC F
Engine:
4,969 cc, DOHC 32V V8, Naturally Aspirated
Fuel:
Gasoline
Power:
461 bhp @ 7,100 rpm
Torque:
530 Nm @ 4,800-5,600 rpm
Transmission:
8-speed Automatic with Paddle Shifters, RWD
0-100 km/h:
4.4 seconds
Top Speed:
274 km/h
Fuel Economy:
4.6 km/L Overall
Price:
PHP5,998,000
+:
Fast, luxurious, comfortable, Mark Levinson audio, price
-:
Needs to go on a diet, way too thirsty
Verdict:
Superb value for money, makes a great sports GT
Rating:
9/10
Enzo Teodoro
Ex-Automotive Executive
Instagram: @enzoteodoro