Lick Your Lips
A car, what? A lady I was having a conversation with recently said that I didn't strike her as a 'car guy'.
Puzzled as to what that meant, she expounded, "You know, obnoxious, large beer belly, sling bag, awful haircut, and smokes like a chimney". I thought that apart from the sling bag, she just described me to the tee. "The type who spend their money on stickers, neon-lights, and boom-boom speakers", she added. Hmm, I see where she's going with this. She must've been talking about those groups that hang around gas stations and vape the night away with their loud rice rockets and flashing strobe lights. In that case, she is absolutely right. I am not a car guy.
You will never catch me dead doing that sort of thing, because I simply cannot stand the idea of a car club. No, no, nothing against people that do. It's just that I am an outgoing introvert. I have a hard time talking about cars, because I would never be able to keep up. I can't perform an oil change, I refuse to change a flat tire, and I will be of absolutely no help to you if your car overheats in the middle of the night. Besides, what in the hell is a radiator? I don't love cars that way. After all, I spill all that I have to say about cars when I write on this page - like now.
You see, at a young age, I've always seen cars as a wonderful addition to life. Surely it is a passion, but it can never really be just that. I don't solely live and breathe cars, because there are other things that I find rather interesting too - like travel, food, architecture, interior design, music, timepieces, and bespoke suits. Of course, that all comes after the things that really matter like family, friends, and blah blah blah. I'm not just saying that for the benefit of those who may throw a canister of coins at me. I've always believed that when the day comes that I'd be fortunate enough to purchase a car as a pure luxury and not as a tool, I would first need to have a beautiful home to live in.
It need not be a mansion with a couple of slaves locked in the basement, but rather a modest size home that is beautifully finished, well-appointed, and with no detail left untouched. And because I've always had that notion, I have always leaned towards a certain category of car - the GT. They are glamorous, subtle, and no matter what kind of architectural design your house is, they never look out of place parked in the driveway. You can never really park a Civic Type-R with stickers from Toretto in front of a French Villa, now can you?
"It screams Tony Stark, Mad Men, and Frank Sinatra all at once."
A proper GT or Grand Tourer has been synonymous with luxury, speed, panache, and grace. It is the intersecting point where a sports car and a luxury car meet. This means that under the hood you'll most find a bombastic engine that should belong to a supercar, except it's mated with a cabin dripping in bespoke leather hide, wood veneer, champagne flutes, and enough space to fit three more gorgeous ladies.
A GT was meant to devour hundreds and hundreds of miles from your penthouse suite at the metro to your caste up in the woods. And it will do so, faster and more comfortably than anything else you're likely to see on the way there. The international journalists and car gurus say that Lexus' all-new LC 500 is the leader of the new generation of luxury GT coupés. To say that I am intrigued is an understatement.
When you see this car in the flesh, it is extremely difficult to recall the many boring cars that Lexus have made in the past. It looks like a concept car that literally just hopped out of the Geneva Motor Show. Yet ironically, it is unmistakably Lexus. It is so far from anything that they've made, yet you can't mistake it for anything else. The lines are strong, chiseled, and angular. It is paralyzingly striking, a genuine head turner. It isn't beautiful in a way that an Aston Martin DB11 is timeless. This is alien and cutting edge, an iPhone in a sea of Nokia and Blackberry mobile phones.
And the fact that I just mentioned the most beautiful car in production today, just tells you everything you need to know about the LC 500 as far as looks go. There are so many details to take in, like the LED tail lights, which create a 3D illusion as if you're staring into the abyss of the coupé's internal organs. The last time I saw this much detail on anything was in the Sistine Chapel. It's like finally having dinner with a lady you've admired for years, and as the night goes on, you see angles that you've never seen before. She frowns, she squints, she smiles, and then she speaks. Lovely.
More than a car. A feeling.
As jaw-dropping as the exterior is, this car's magnum opus is in the craftsmanship of its interior. The particular color scheme is called Toasted Caramel, and it is as delicious as its name suggests. When I first opened the door, I could hardly accept that it was a Lexus. There is absolutely no substantial trace of Toyota and you cannot be faulted for mistaking it for an Aston Martin or a Bentley. The design is bespoke, tasteful, and timeless. Where the exterior looks like a mobile extension of a spacecraft dropped to Earth, the interior is dripping in old world luxury with modern touches - like a mid century modern home from Architectural Digest. It screams Tony Stark, Mad Men, and Frank Sinatra all at once - and I haven't even sat inside.
The moment I did, I unraveled the orgy of multiple surfaces from buttery smooth leather, perforated leather, to Alcantara® suede - all in a monotonously glamorous shade of Caramel. And those door inserts? That ladies and gentlemen is what a door panel should look like. Champagne anyone? The bolstered seats, which can be cooled or heated, are wonderful and infinitely adjustable. The cabin is spacious and airy, but when I am behind the wheel, there is absolutely no space for legs behind me. Do I care? No. Those rear passengers only dirty up the interior by scraping their shoes on the leather. It's good to know that the space exists, but if they're not in front, then they're not important. Be kind though. Call them an Uber.
Driving this car is so much more than just the act of stepping on the throttle and turning the wheel. Sure, the steering is void of feel and the four wheel steering does nothing but unsettle me every time I find a hairpin. I either turn in too much, or I turn in too little for #fottm. That would be 'fear of turning too much'. It won't float like an S-Class, but for a sporty GT, it isn't going to break your back either. The infotainment is still messy, but sharper and more beautiful than ever. It is so confusing to use that it actually blocks you from accessing most of the information when you're moving.
The car has several driving modes, my favorite being Sport +. No, it isn't because I think that the car was built for the Nürburgring, but because it builds up revs much quicker and what that does is it makes a lot of noise. Believe me, it sounds absolutely off the dial. The noise from the naturally-aspirated V8 engine is a musical hit and the accelerator pedal is the volume button. When you're tired of that, there's an astounding 915-watt Mark Levinson® Reference Surround Sound Audio System - it's the kind that envelopes you in music. You feel it just as much as you hear it.
"You can happily cruise at 200 km/h on 10th gear and carry on a conversation about how beautiful the day is."
What I think the car's best mechanical element is its 10-speed automatic transmission, and for many reasons. When it comes to high performance cars, I prefer a dual clutch tranny. I think they're faster and they feel more alive, given the downside that they can be a bit jerky at times. If you can't give me that, I would very much rather have a full on manual gearbox with a stick. Most non-dual clutch transmissions are slow and they don't rev match very nicely. They upset the balance of the car when you downshift, and that only makes my passengers feel like regurgitating.
This however, is smooth and surprisingly quick. It also blips the throttle on downshifts making it all the more dramatic. The gears are long too. Contrary to what some say that they would've wanted close ratios with 10 gears to go through, I reckon that it would be a nightmare downshifting from 10th to 3rd every time you approach a bend. What they've done is create long and proper gears from 1-6, and they've made the rest of it, cruising gears. That means that you can happily cruise at 200 km/h at slightly over 2,000 rpm on 10th gear and carry on a conversation about how beautiful the day is.
None of that really matters, because what this car does best is pull on your heart strings, whether you are tearing up the asphalt at 250 km/h or hopelessly stuck in a Metro Manila traffic jam. It does both of those things better than most by keeping you in a bubble of luxury and opulence. When you look outside at the many people whose eyes light up as you pass by, you cannot help but feel privileged to be in something so special. Really, I mean it.
It may not sound right, but if you are buying a GT, a Lexus that looks like it comes from Andromeda - you ought to keep it real and admit that there is a novelty in being seen in a special car that may inspire the next generation of lawyers, doctors, or entrepreneurs to chase something aspirational - to set goals and inch their way closer to them. The LC 500 is a dream - and it offers an expensive experience that is no longer common in many expensive cars today.
A Reality for the privileged.
2018 Lexus LC 500
Engine:
4,968 cc, DOHC 32V V8, Naturally Aspirated
Fuel:
Gasoline
Power:
469 bhp @ 7,100 rpm
Torque:
530 Nm @ 4,800-5,600 rpm
Transmission:
10-speed Automatic with Paddle Shifters, RWD
0-100 km/h:
4.7 seconds
Top Speed:
269 km/h
Fuel Economy:
5.8 km/L Overall
Price:
PHP9,008,000
+:
Stunning, flamboyant, ultra luxurious, comfortable, fast, fantastic transmission
-:
Not in my garage
Verdict:
A game changing luxury coupé, this is the way forward
Rating:
10/10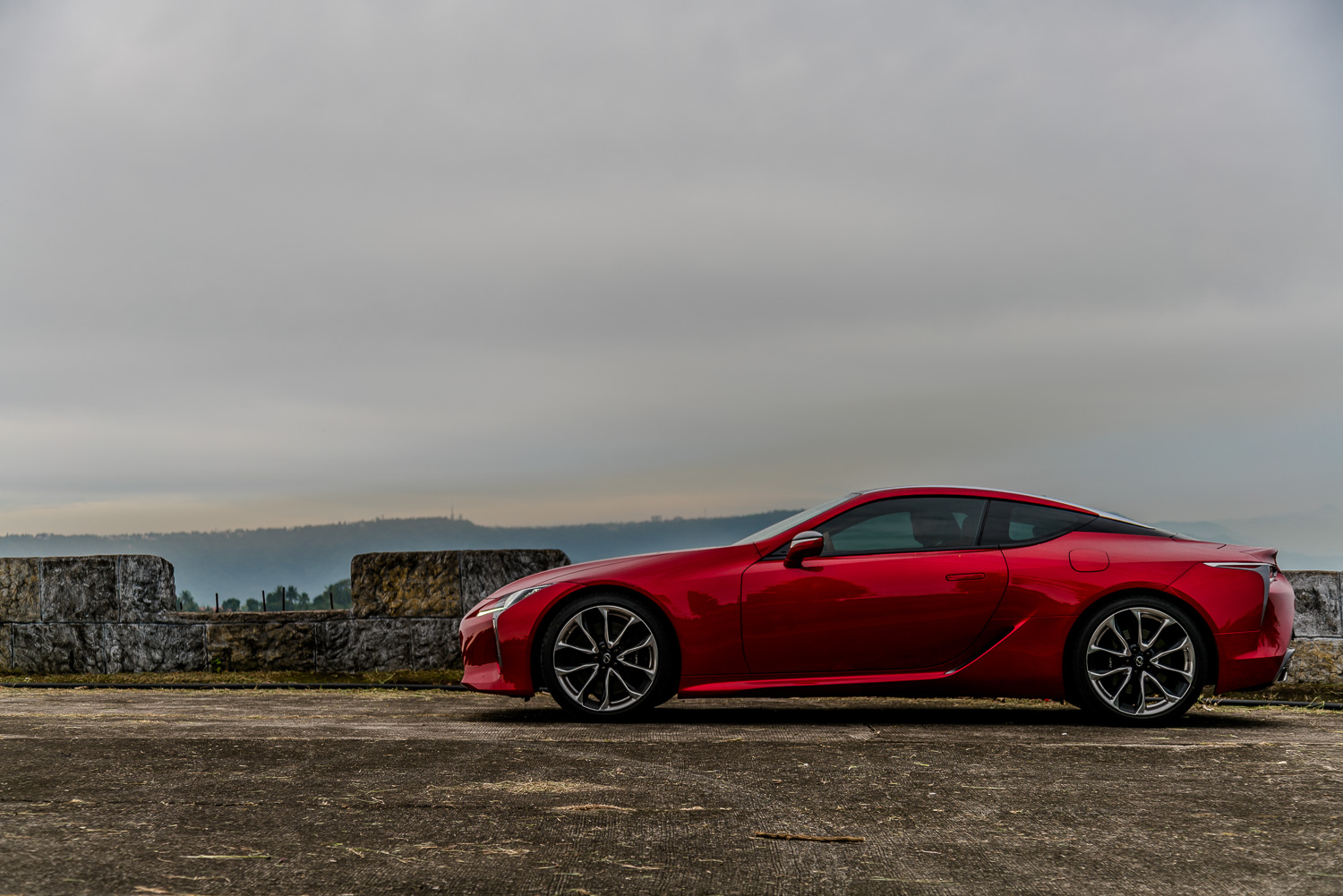 Enzo Teodoro
Ex-Automotive Executive
Instagram: @enzoteodoro