Royal Flush
CHOOSING WHAT car you are going to buy is always a million times more enjoyable than actually buying it.
It's like the journey to the destination. There's a thrill in choosing the correct color, the best stitching, and the options that offer the most bang for the buck. Fender audio system, check. After spending all that time speccing the car and finally submitting your preference, the dealer will laugh and say that you'd have to wait six months because blah blah blah. Some will tell us that our car will never arrive, and that there's an equally pleasing Jetta sitting in the showroom that we could drive home in today.
"I'm sure you have a car with a vase for a daisy", I said, "but I don't want that either". Eventually, you'll find someone that knows what's allocated for your country and that you'd just have to pick from that batch. Once you do, you'd have to get on your knees and sign on the dotted line to fire up its production in Wolfsburg, Germany. There's the waiting time, the countless calls from Joven, telling us which continent the car is in at the moment and what kind of ship it's riding in transit. At least, that's what we'd like to think.
The process for this particular Golf GTS was simple. Pick the color that's available and select between the Business Edition or the Business Edition Plus. Hand over the check, and wait for the dealer's call. In truth, this cuts the thrill of the journey completely. There isn't a lot of foreplay, but in hindsight, if you can't really spec the car to the letter - might as well take it at the soonest possible time. In no more than two weeks, we got the call that the car had arrived in the dealership.
After a few days of running the pre-delivery inspection, the car was ready to go home. First, Maan's car, a Platinum Grey Metallic wagon sitting on some pretty 18-inch alloy wheels, followed by Miguel's Pure White example with matte black wheels that he painted as soon as he got home from the dealership. Idiot or genius? I still have some problems calling this a Golf, because the last time I checked, that was a hot hatch. This is not a hatchback, it's an estate car. A wagon. It looks every bit like the hatch up until you get to its arse, because with the rear seats folded down, you can fit an elephant inside with all of its toys needed for the next circus show.
The very units that have come into the archipelago are intended for the North American market, this is why it comes with amber touches on the headlight, an MPH speedometer, and red signal lights at the rear. This is Volkswagen AG doing damage control after their diesel gate scandal, one that has cost consumer trust ratings to plummet, leaving them a surplus of units stuck in their shipyard with no takers. The brilliant idea is to send it over to the Philippines, a country that doesn't give a shit about trust ratings. We've been getting raped by our government since God spoke to Moses on the mountain. We sure as hell will not worry about some passé emission scandal.
We're probably the only modern country that suffers daily from unregulated smoke-belching public utility transport, so why care all of a sudden about what the Golf spits out in its exhaust? The carbon footprint it leaves may not sprout a field of sunflowers in its trail, but I am certain that it is a lot cleaner than the air you breathe in EDSA. Volkswagen Philippines has done us a favor, and you'd be stupid not to grab it. Look at Miguel, he did the right thing. He just got a white one, before excise taxes tighten its grip on our throat. Credit to him, this car was his idea all along.
The car is known as the Golf Variant in Europe and the Golf SportWagen in North America, however it has been christened the Golf GTS in the Philippines. I have no idea what it stands for. Under the hood lays a 2-liter diesel engine shared with Audi's fabulous A4. It offers 150 horsepower on tap and a hearty amount of torque, mated to a 6-speed dual-clutch gearbox.
If you are indeed carrying Dumbo in the boot, go easy on the pedal, because as I've found out - this thing moves. Don't worry too much though, it sips gently on crude oil. In the city, I've found myself doing about 9.5 km/L and on the highway I get to pull out anywhere between 17.5 - 26 km/L depending on the distance and how many idiots cut me off on the road.
Inside, you'll find a generous serving of faux leather and all the hallmarks that have made the Germans so famous. The build quality is top-notch, albeit a bit cold. The moment you sit on the snug driver's seat, you are greeted by a wonderfully ergonomic instrument panel. Everything is easy to read, and once you've familiarised yourself with the controls, you'll find all the information you need no more than a press away.
The on-board computer and infotainment are second to none. Nothing is hidden deep in the bowels of a complicated machine - everything is as straightforward as can be. The touchscreen display is easy to operate and you can pretty much set what kind of driver assistances you want, which there are a lot of. Thank goodness it comes with Apple CarPlay®, the simplest thing.
Driving the car is an occasion in itself. The torque delivery is smooth and more than enough for what roads we are blessed with. The steering is light, nimble, and direct. It doesn't have a lot of feel when you're pottering around town, but once you put it through its paces, it gets better. The driving position is infinitely adjustable, making it perfect for all shapes and sizes. At high speeds, you can squint a little bit before diving into a corner faster than you should've, only to realize that the car could've gone around much faster.
There's all but a hint of body roll, a suggestion that it deserves to carry the 'Golf' moniker. It is a hot hatch at heart with an extra order of practicality. For the non-driving enthusiast, it makes the perfect car for your partner. Maan loves the fact that it parks itself, which means that tight spaces no longer intimidate her because the computers work its magic. Kaye loves that lights magically illuminate towards the corner she's turning into. Witchcraft, she says.
"If you see a beautiful lady in a short skirt, you'd have to turn your head around, which will then result into a horrible crash, or will it?"
The Golf is equipped with Adaptive Cruise Control, it basically slows down when the car in front does, and it speeds up again maintaining a set distance with the vehicle ahead. It has Blind Spot Warning, which comes in handy because the side mirrors are awful. They seem to show very little. If you see a beautiful lady in a short skirt, you'd have to turn your head around, which will then result into a horrible crash, or will it?
The Forward Collision sensor says that it won't, but it sends you into a full-blown anxiety attack. You see, when the cameras believe you're about to have a crash, it rings all sorts of warning chimes into the cabin along with warning lights. Your initial reaction will be to step on the brakes, except they've pre-loaded them for maximum bite, which means that the moment you do, it's like you've hit a brick wall. If you don't, the car does it for you. ANNOYING.
"I get a kick out of watching the tach needle snap faster than I can blink every time the gearbox swaps cogs."
Here's the bottomline. I love and enjoy driving this car. If driving is your thing, look no further. I make excuses to drive out of town just so I can listen to the 9-speaker 400-watt Fender Premium Audio System® - an audiophile's dream come true. I get a kick out of watching the tach needle snap faster than I can blink every time the gearbox swaps cogs. And apart from the fact that it handles like its on rails and that the transmission is off the dial, there's a high in one-upping the manufacturer. Admit it, we like great deals and massive discounts. At roughly 1.4 million Pesos, how can you ever go wrong with this? It has a gigantic glass roof, a near perfect audio system, an array of driver assistance features that some of us won't ever use, and most importantly, world-renown German build quality and feel.
Sure, I suppose that the ride isn't as plush as a Peugeot 308 SW and that the rear legroom cannot compete with the likes of the Honda Civic. Perhaps, a wagon isn't for everyone - which is great for the few of us that are. All of that is irrelevant to the fact that the price you pay for the Golf GTS and the amount of 'car' that you get in return do not match. It wouldn't have shocked me if the price tag was 2 million Pesos. Really, it wouldn't. And on top of that, no matter how you look at it, it's an overachieving well-rounded automobile. It's a straight A student that happens to be a superstar point guard, the football striker with dazzling footwork, who just topped the bar exams, or even better - the perfect 10 with a heart of gold. It is the proverbial upper-hand, the one who has it all - the unassailable Royal Flush.
2017 Volkswagen Golf GTS Business Edition Plus
Engine:
1,968cc, DOHC 16V Inline-4, Turbo Diesel
Fuel:
Diesel
Power:
148 bhp @ 3,500-4,000 rpm
Torque:
320 Nm @ 1,750-3,000 rpm
Transmission:
6-speed Dual Clutch (DSG), FWD
0-100 km/h:
8.9 seconds
Top Speed:
221 km/h
Fuel Economy:
11.4 km/L Overall
Price:
PHP1,400,000
+:
Handsome, great powertrain, DSG, long list of bells and whistles, German build quality, aggressive price point
-:
Driver's side mirror has a limiting view, some splashing noises at low speed from either the Ad Blue or fuel tank, parking sensors a bit too manic
Verdict:
There isn't a car available today that offers more bang for the buck than this.
Rating:
10/10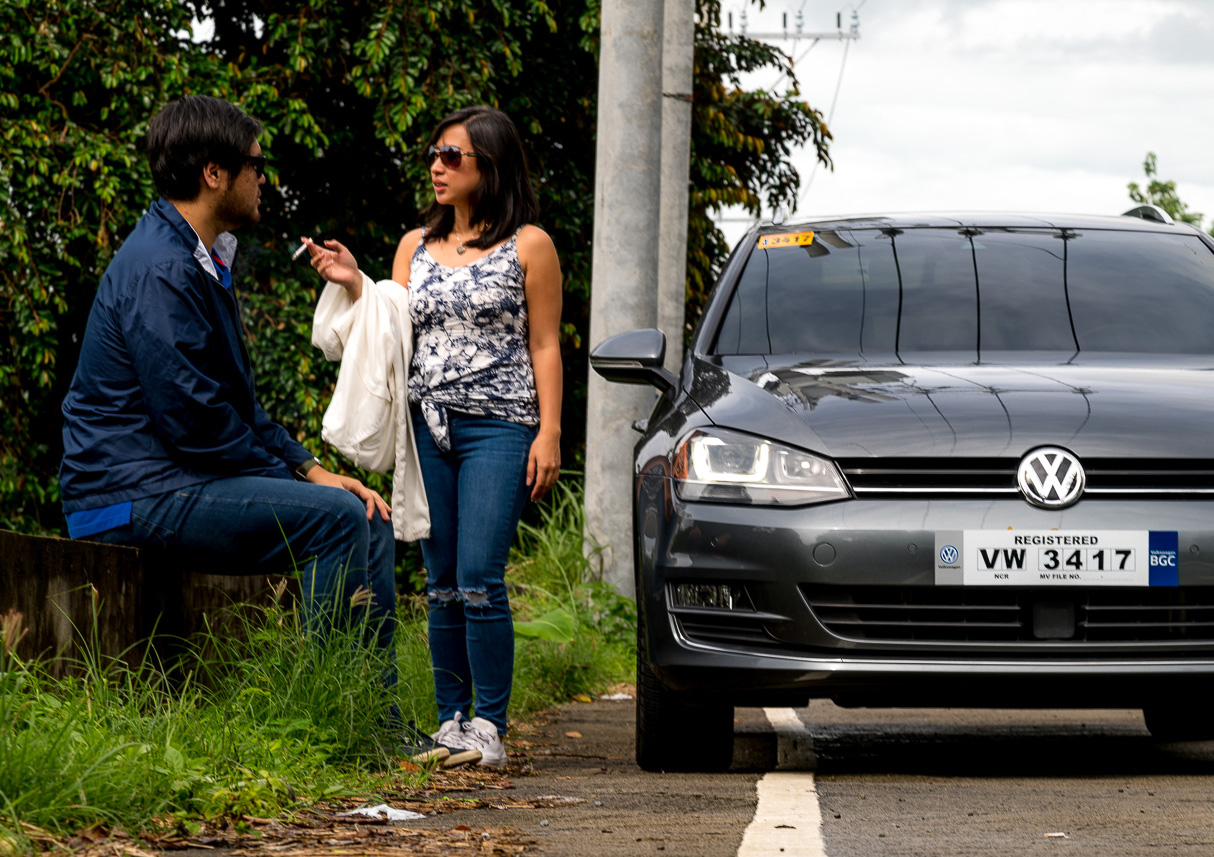 Enzo Teodoro
Ex-Automotive Executive
Instagram: @enzoteodoro