Masterful 6
I can almost swear on my life that this car is all but a figment of a dream. Not so long ago, I owned a Mazda 6. Zebra, Lima, Juliet, One, One, Two, the parking lady would say. It was two generations down from this one and had a 2.3-liter engine that loved to rev like its life depended on it.
I was in love with that car simply because it felt like it enjoyed driving around more than I did. That meant it was always up to the task regardless of the time or the weather. Every time I'd fire up the engine, its ears would go up and it would start wagging its tail. It was always ready to play. More than that, it had character. The engine had a personality, quite a feisty four banger with a Napoleon complex because it was so upset that it lacked two cylinders. It had no fancy dual clutch or CVT either, just an old automatic that allowed the engine to sing its heart out.
The steering was heavy and precise, which allowed me to take corners with more confidence than I really needed. It was a properly sporty drive, yet it had space for five adults. Hitting north of 200 km/h was a breeze, but fueling it up wasn't. At one point, filling up the tank from empty would cost me a good four grand, and when I spend that kind of money, I expect to walk away smelling like lotion with my knees buckling from pleasure or with my eyes rolling from one side to another, because I'm high as a kite - neither of which would happen after a full tank of petrol.
Inevitably, I had to let it go. I exchanged it with a turbo diesel hatchback, which until this day, allows me to drive the wheels off it - completely guilt free. Instantly, I fell in love with diesel and turbocharging technology. It wouldn't be long before Mazda Philippines would send over their new kodo-designed Mazda 6 SkyActiv-G.
It was Soul Red, with a petrol engine. Now, I don't really care how you see it, but this car is gorgeous and there isn't one debate about it. It channeled its inner Aston Martin and had a profile that looked like it was ready to pounce. On looks alone, it had won me over. It was Jessica Michibata in a provocative but classy dress.
"It is still Jessica Michibata, except this time around she's really got the legs and the stamina to go all night long."
Unfortunately, looks isn't everything. When I took Jessica to bed, she was a major disappointment. There was no zoom-zoom factor whatsoever. The once sporty steering was gone, and so was the angry engine - and ultimately, the magic was too. The only thing it had going for it apart from its painfully gorgeous looks was a stellar chassis that could handle so much more. I remember cruising down the highway in the underwhelming petrol 6 and telling myself, "The day they release a Mazda 6 diesel with turbos bolted to it, I would munch on dog shit on Facebook for everyone to see".
Two things. One, thank God I was only having a monologue; and two, holy shit! They actually made one. I honestly did not see that coming. In my eyes, Ferrari making an SUV was a far bigger possibility than Mazda slapping an oil burner under the hood of the sleek 6. Had I done my research, I would've learned that this isn't the first time they've done this. They've had some history with turbo diesel engines in the past, which probably explains why this car is so unbelievably good. So here it is ladies and gentlemen, the new Mazda 6 SkyActiv-D, in Soul Red again.
So from the outside, unless you read the badge at the rear, there are no visual differences from the SkyActiv-G or petrol units, which is absolutely great, because why would you want to mess with aesthetic perfection? They're identically gorgeous, but one is faster and also sips on fuel less. It is still Jessica Michibata, except this time around she's really got the legs and the stamina to go all night long. The interior shares the same story as well. It is gorgeous and ergonomic. All the buttons are where you want them to be.
The driving position is perfect and it allows you to really sit low into the chassis, which gives a very sporting sensation. The cabin is bathed in black and chocolate brown leather, which I grew to like later on after realizing that the white leather interior would be gray in a couple of months. The center infotainment screen is still the best among those that come from Japan and they're navigation ready too. If you are used to BMW's iDrive controls, you'll feel right at home with this one.
"The good people at Mazda know that their cars are designed for pleasure and that a CVT is five layers of condoms."
It must be said that I don't particularly like the instrument panel. I think they could have specced it with the upgraded colored circular screen and there's not much they can do about the speedometer that somewhat reminds me of a Toyota Vios. The bigger nuisance for me is that I cannot permanently shut off the head up display (HUD). Every time you fire up the engine, it comes back like the plague. Other than that, everything is great. There's a generous serving of cutting-edge tech as well. The Adaptive LED Headlamps are great. If you leave it in auto, the frontal camera reads the road and orders maximum illumination without blinding everyone else.
You'll appreciate this the most when you drive in pitch black areas with little spurts of cars popping out of nowhere. It also has a Lane Keep Assist System, which is pretty self-explanatory. It keeps you in check for some lapses in driving when fatigue starts to set in. However, the best cure for that is the 11-speaker Bose Surround Sound System with Centerpoint technology. It's not a very bass heavy system, but play something like San Francisco Street by Sun Rai and listen to the system bleed crisp high fidelity audio into the cabin with the signature warmth of Bose.
"When you enter the highway, put your foot down and watch everything go backwards."
While all of that is great, the pièce de résistance of this car is its engine. Under the hood, you'll find an oil-burning power plant that produces 175 horsepower. It's a bit underwhelming considering that it's inferior even to the petrol version that lacked some zoom-zoom. Where it shines though is in torque. You see, the petrol version could barely get out of its own way with a peak value of 250 Newton Meters. This SkyActiv-D has two-stage twin turbochargers bolted to the engine, and it pushes up to 420 Newton Meters, which is enough to power a fourth of Makati City in the event of a black out. When you enter the highway, put your foot down and watch everything go backwards. It's hilarious!
Oh, and it handles so well too. It is so mild-mannered and planted through the twisties. Let me whisper this to you... It feels like a Bimmer. Ssshh. To top it all off, it's so damn frugal when you're not spanking its rear. On the highway, I was able to achieve 15.4 kilometers per liter. I did that for about 30 minutes before I lost my patience. I put my foot down and it dropped to about 8.5 kilometers per liter after two hours of driving. For the entire week that I had it, I averaged a combined cycle of 11.6 kilometers per liter, which is not bad considering that it'll get you to very naughty speeds as soon as you ask it to.
All this widespread power is supported by a fantastic SkyActiv-Drive 6-speed automatic transmission. I almost never praise transmissions that come from this side of the world because they're mostly infected with the apocalyptic CVT virus. Thankfully, the good people at Mazda know that their cars are designed for pleasure and that a CVT is five layers of condoms. It is by far the best automatic gearbox in any car from the East. When you're driving spiritedly, it almost shifts as quick as a dual clutch, but it doesn't have the jerkiness when you're pottering around town. It honestly deserves to have those paddle shifters, because they work brilliantly.
I was looking back at the wonderful cars I've driven under and even slightly above 2 million bucks, and as a complete package I can't think of anything better. This has the looks, the power, the technology, the fuel economy, the space, the comfort, the practicality, and the driving dynamics. Just when I said that the Honda Civic RS Turbo killed the very existence of the executive car segment, the Mazda 6 SkyActiv-D zips my mouth shut. If you enjoy driving yourself around and are in the market for an executive sedan, yet you do not buy this car - there will be no words for your catastrophic decision. I cannot believe they have built this to perfection, but they have, haven't they?
Engineered to change minds.
2016 Mazda 6 2.2 SkyActiv-D
Engine:
2,191 cc, DOHC 16V, Inline-4, Common Rail Turbocharged
Fuel:
Diesel
Power:
175 bhp @ 4,500 rpm
Torque:
420 Nm @ 2,000 rpm
Transmission:
6-speed Automatic SkyActiv Drive with Paddle Shifters, FWD
0-100 km/h:
8.4 seconds
Top Speed:
216 km/h
Fuel Economy:
11.6 km/L Overall
Price:
PHP1,990,000
+:
Gorgeous, powerful, smooth, comfortable and techy
-:
Can't permanently turn off the HUD
Verdict:
The best in the segment, no question about it
Rating:
10/10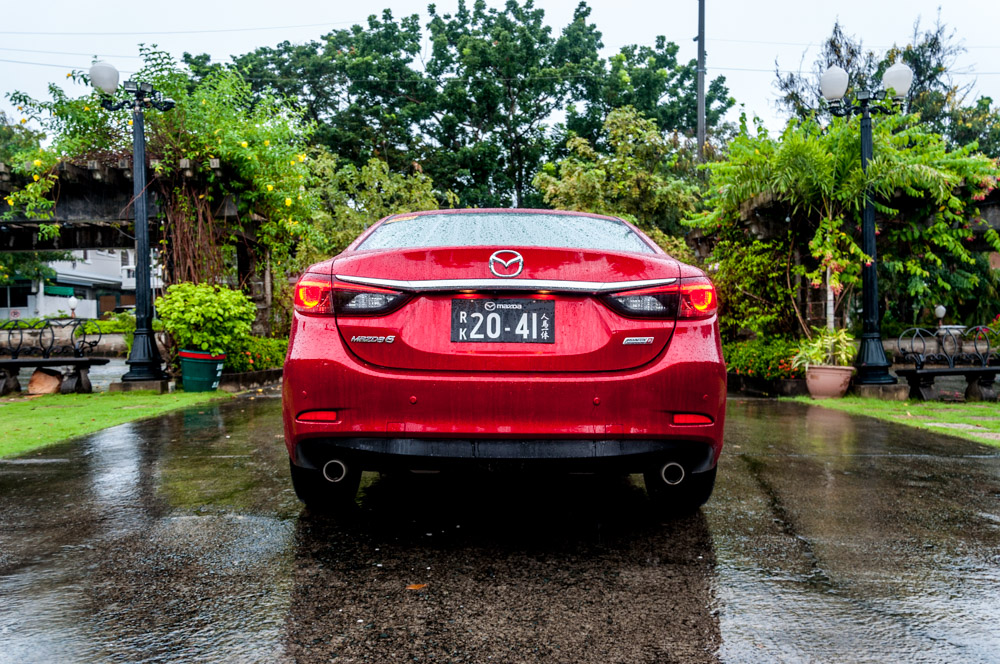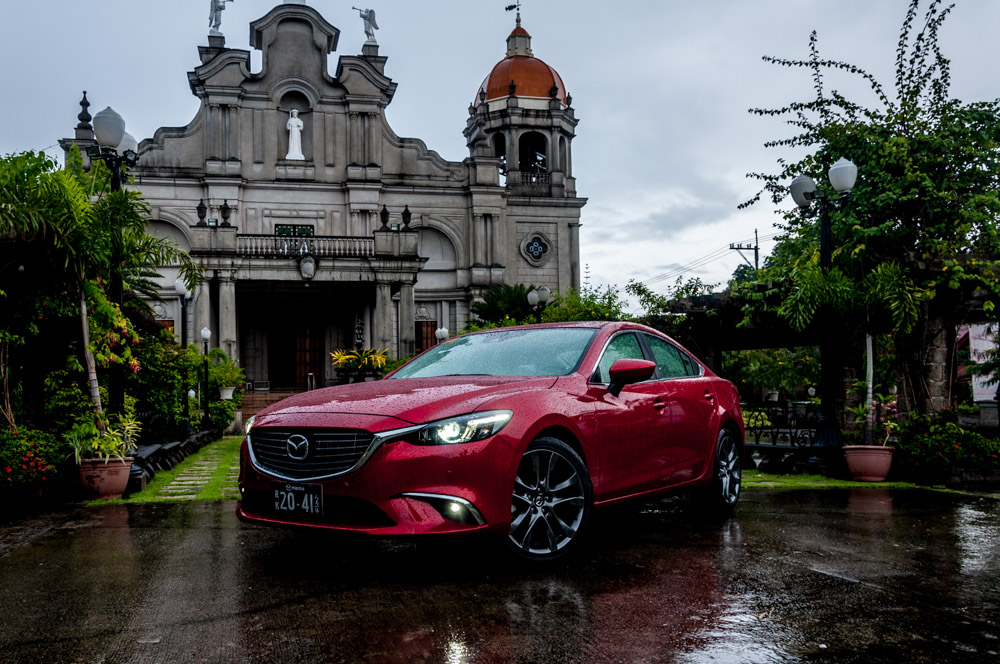 Enzo Teodoro
Ex-Automotive Executive
Instagram: @enzoteodoro